While my husband continues to provide most of our financial support from his off farm job, I really love the fact that I can contribute to our family's income through writing. This is even better because my work is so often fun. I have written before that writing for the local paper has brought me a deeper understanding and love for my little portion of the world. It also allows me to go some really fun places. This last Saturday I heard Kelly Barnhill speak at Anoka Ramsey Community College in Cambridge. Barnhill is the author of The Girl Who Drank the Moon. 
Author readings have become one of my favorite activities and for this one it was especially fun because I was able to bring my daughters. We have been reading The Girl Who Drank the Moon so it was especially meaningful for them to meet the woman who had written one of their favorite books.
Barnhill is local– growing up in a neighboring city, attending the same college and visiting many of the same places as me. She said of her book that she set out to write a book that featured a "false narrative." It is the story of a village in a mystical land. The elders of this village have convinced the people that the woods surrounding their village is dangerous. There is a witch that lives there. The only was to keep the witch happy and keep her from killing everyone in the village is to sacrifice the youngest baby in the village to her, every year.
The twist is there is a witch, but not an evil witch, and she can't figure out why those crazy people keep leaving babies alone in the woods. So she takes them from their reckless parents and brings them to another city on the other side of the forest where she picks an adoptive family and they grow up happy and healthy.
One year everything goes wrong. The mother fights for her baby, she is subdued and sent to the tower. The baby is a special baby, and the witch chooses to raise her as her own granddaughter.  This is the beginning of the story and how the false narrative unravels. There is a young man who witnesses the elders of the town fighting this woman for her baby and he begins to ask questions. Barnhill said,"Questions are really really powerful. They can change a mind, a life, a community, a world. Kids now this. Sometimes grownups are really good at ignoring things."
Hearing Barnhill has got me thinking about false narratives. I shared her story with my husband, now we have clear succinct words to describe the tragedy we are all living through–the false narratives, tauted as truth. As Barnhill said, "who benefits from these narratives." When we begin to question what is truth, or if something is true we need to analyze who benefits.  We need to ask questions.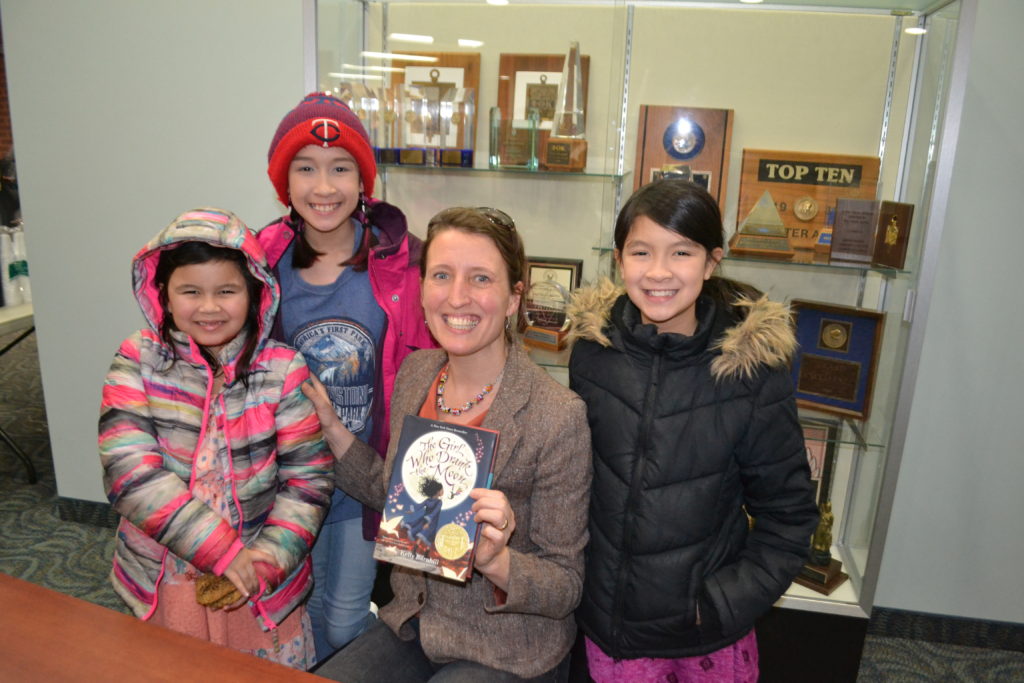 Kelly Barnhill with my daughters