I vaguely remember lefse. I think sometime a long time ago my mother (or maybe grandmother) bought a package, yes a package, of lefse and I remember really enjoying it with butter and sugar. Not sure why I remember the food so much but not the time I ate it. Maybe I had it more then once. For those of you that don't know lefse is a Scandinavian potato pancake. Part of my background is Swedish. In Sweden lefse is eaten especially around Christmas time with lignonberry preserves.
So I remembered the food, remembered really enjoying it. And then a class was offered through continuing education–"Learn to make lefse." It had been ages since I took a class just for fun, just because I wanted to learn how to do something. And to make it even better our absolutely favorite librarian was teaching the class. So last night I learned how to make lefse at the Rush City Library.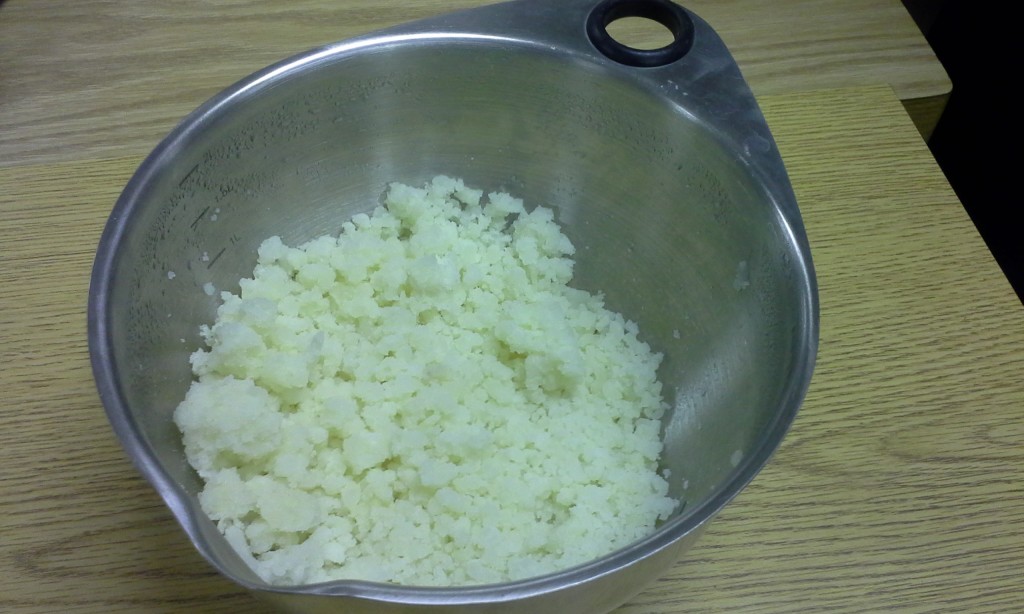 Start with russet potatoes and only russets. You want your potatoes to be very dry. Peel them, quarter them and boil them until just tender. Remove from the water right away. Remember you want them to be dry. While they are still hot put them through a ricer. The above picture is of riced potatoes. The below picture is of a ricer–lower right corner, as well as some other tools of the trade, a flour shaker, rolling pin and pastry mat.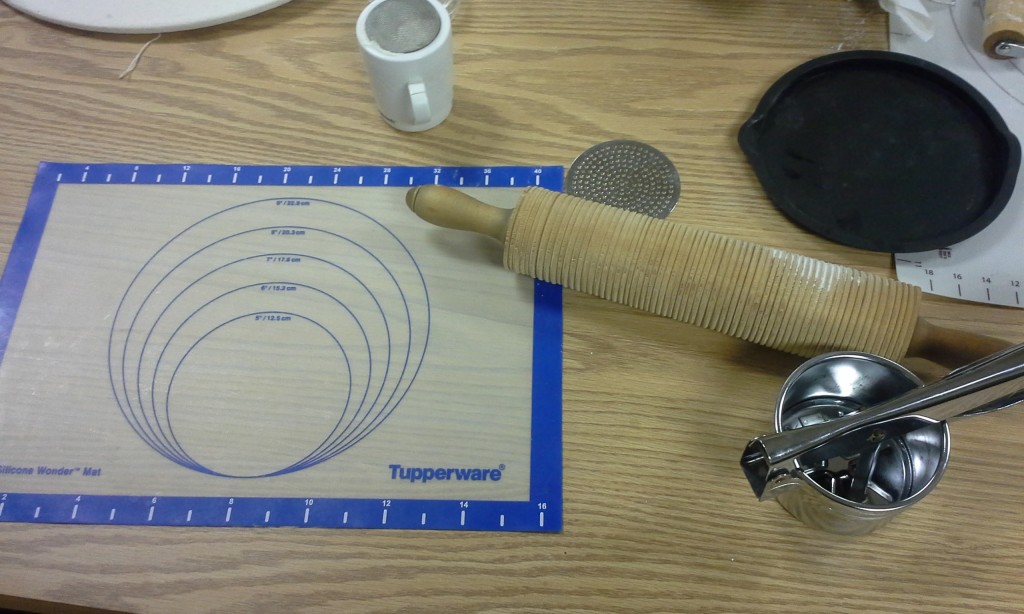 After the potatoes are riced put them uncovered in the frig overnight. You want them completely cool and as dry as possible. Donna gave us two recipes, her grandmother's that involved depression era ingredients like evaporated milk and canola oil and this one from Lefse Time. She said she never thought she would find a recipe she liked better then her grandmother's but you can't beat real cream and butter.
Once you have mixed the batter following the recipe you will need to put it back in the frig. Donna likes to portion the patties first on a baking sheet with waxed paper. Then she rolls them out one at a time making sure to keep the other patties in the frig until she is ready for them.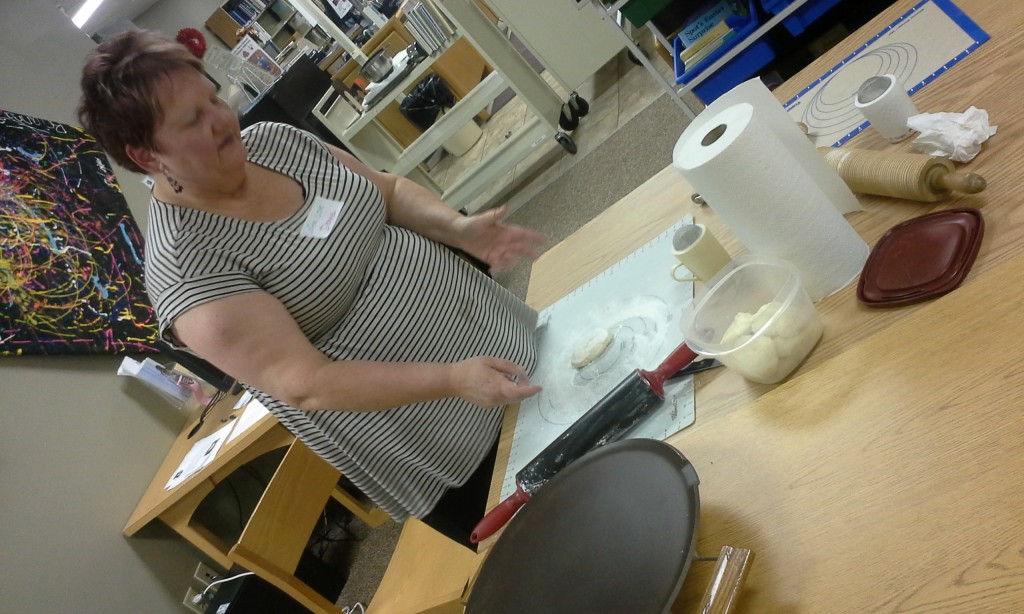 Our wonderful teacher and superstar librarian Donna demonstrates rolling out the lefse.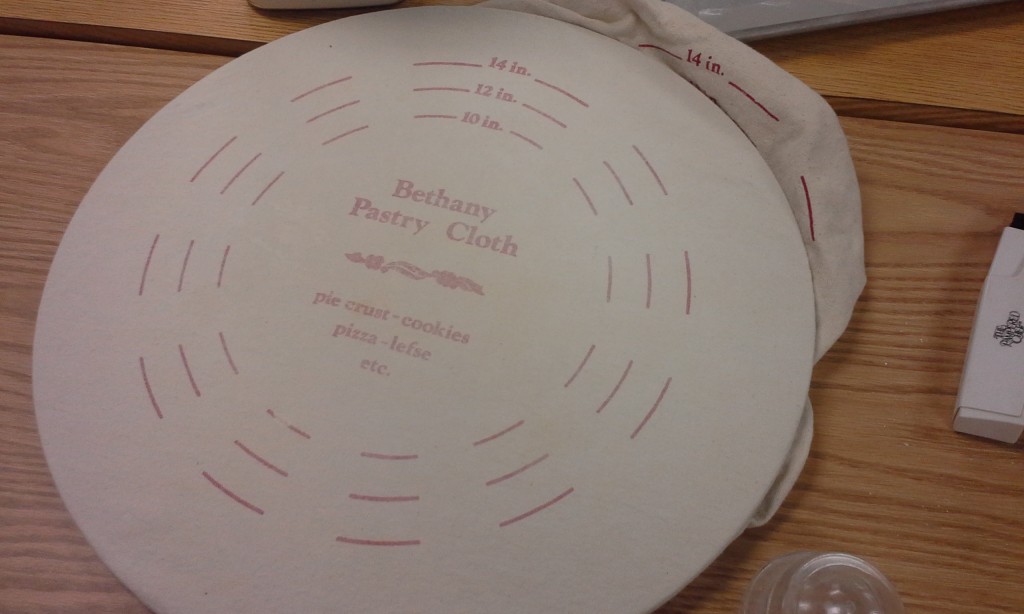 A traditional tool for rolling out lefse. Though Donna likes the silicone pastry mats much better now. They do not need to be seasoned with flour and can be rolled for easy storage.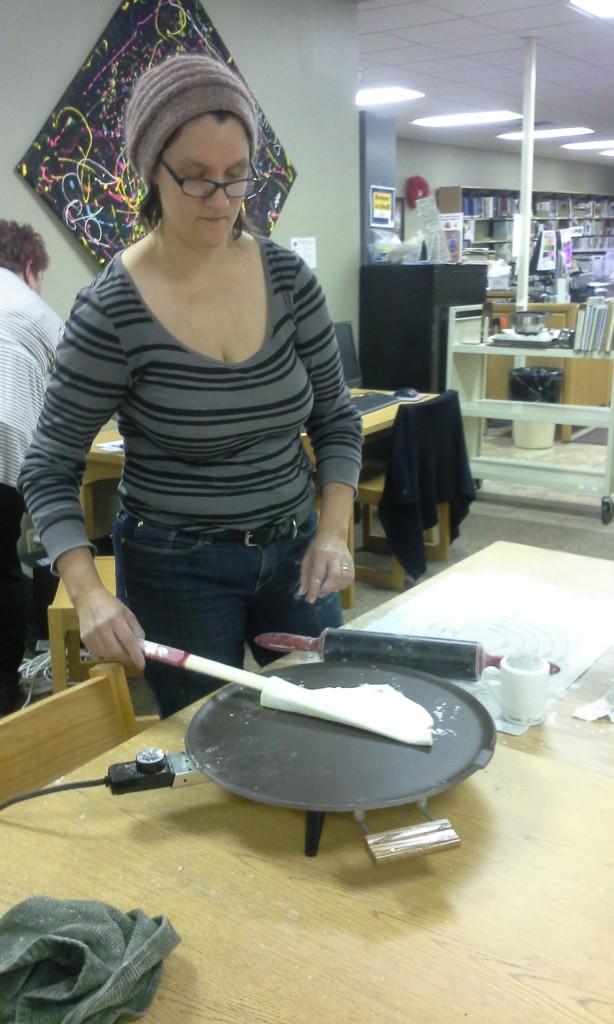 I try my hand at rolling and cooking the lefse on a special lefse gridle set to 500 degrees!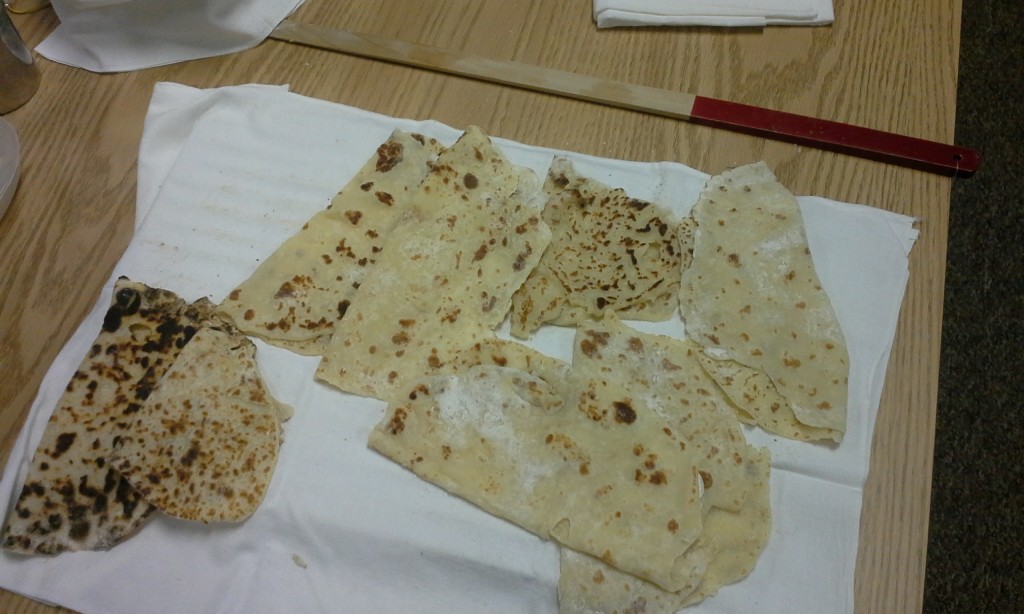 The finished product. They were so much better then I remember. Of course these are hot right off the gridle. I had them with butter and just a dash of sugar.
Though I don't have all the tools I plan to get a potato ricer this weekend and I bought a bag of russets. Can't wait to try my own.