A couple weeks ago we got over a foot of snow. This put a quick end to many of our outdoor projects other than taking car of the animals, making sure they are comfortable and coming up with a system for cold weather care that works for us. We have more animals this year then last including–1 horse, 1 donkey, 4 cows, 3 pigs, 8 goats (with babies coming soon), 4 turkeys, lots of chickens, 5 cats (some indoors, some out) and 2 dogs. The horse alone will drink 10 gallons of water a day so figuring out systems is pretty important.
But even with all this craziness I love the slower pace. It took me a little bit to get used to driving, walking and doing chores in the snow but now that I am settled in I am enjoying winter and the time it allows me to work on some of my favorite things like cooking, reading, creating and spending time with family.
Cooking–I love cooking but sometimes it can feel so rushed just keeping up with the family's needs. Now that things have slowed down more outside I can take the time to cook those hearty meals that require a little more time. Another great perk is that Proeun and I get to cook together and try some new recipes. Here are some I am loving right now–
20 Crock Pot Recipes You'll Really Want To Eat and
Healthy Holidays-Slightly Indulgent Sweet Treats. Who doesn't need that right? It is at The Humbled Homemaker. If you subscribe to her blog you get a free copy. I love handmade gifts and love getting and giving gifts of food. This ebook has my mind running.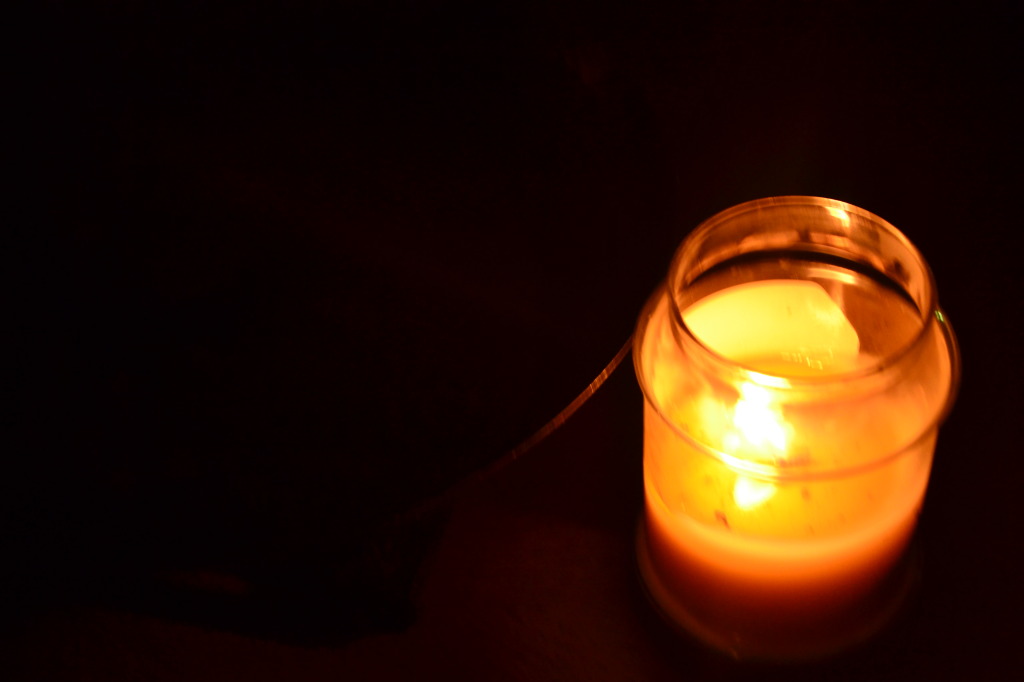 The children have also discovered a love for candlelight dinners and with the sun setting earlier it makes it so much easier to indulge in a little treat.
Reading–I am finally finding time to read more. I was so happy this week to get the newest issue of Taproot. My favorite article was "Dinner with Sadie."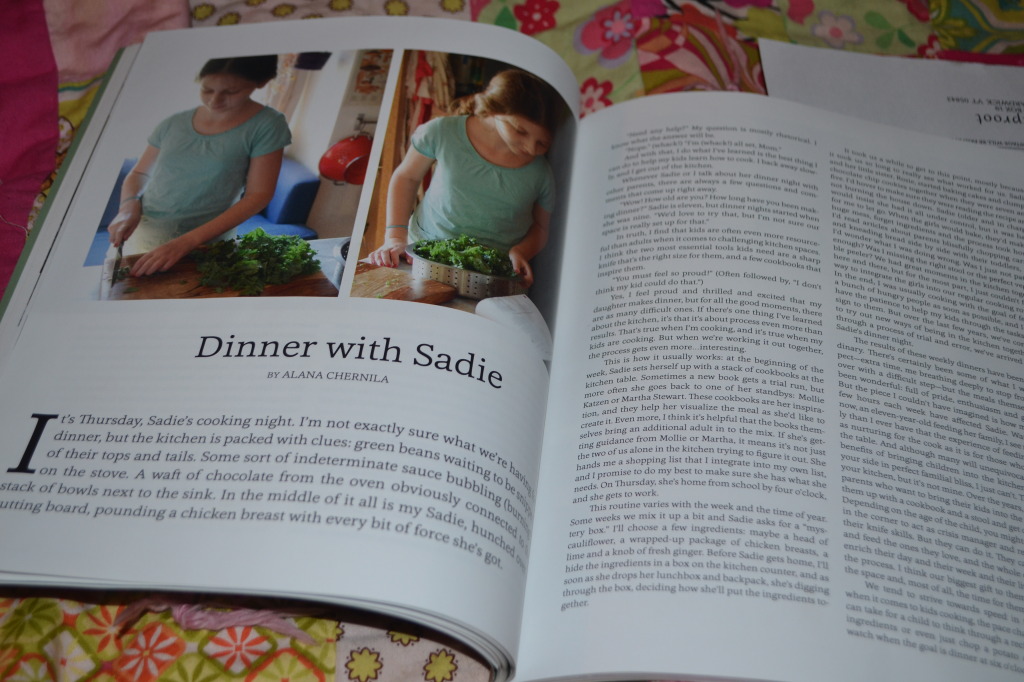 The author talks openly about how she loved the idea of cooking with her children in the kitchen but found that her personality and time constraints made it very difficult for her so she and her daughter decided that solo cooking nights worked best for Sadie. It was interesting that I just read it yesterday and today Effie, my 4 year old, really wanted to cook with me. Lunch was curry and she loved cooking it with me. At lunch she asked her dad, "Daddy do you like my curry?" She was so proud. At the end of the article the author lists some cookbooks that are kid friendly, maybe Christmas presents for my children.
Creating–I love knitting but normally only do it in the winter. This year I am trying to focus on a sweater I started for Proeun oh say 7 years. But now I am going to finish it. I have decided that I will knit at least 2 rows a day and limit other projects until it is finished.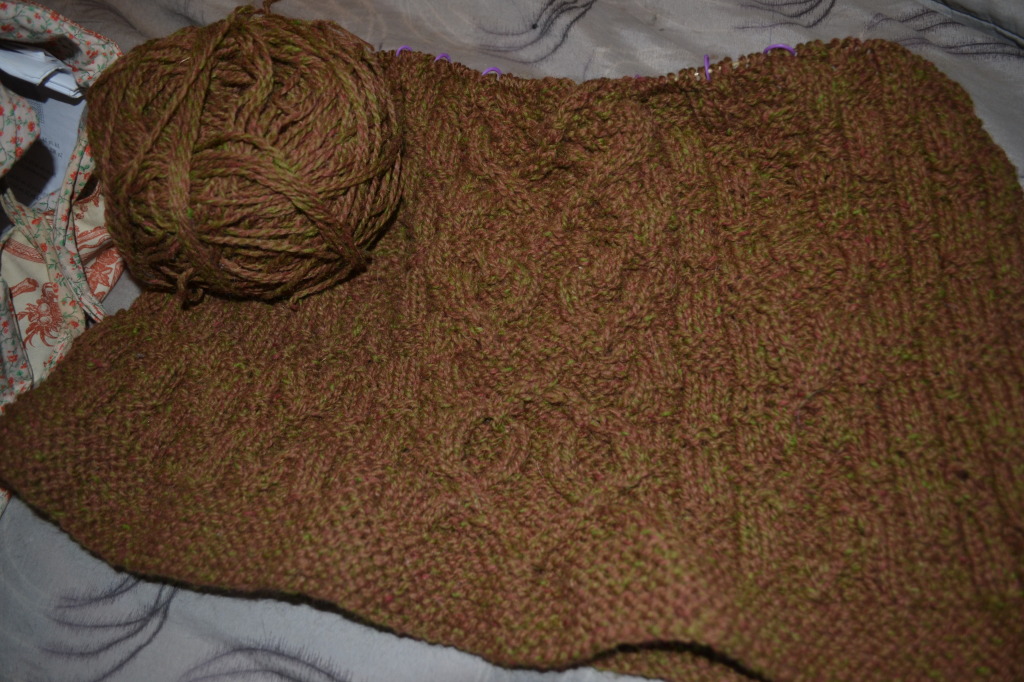 Of course with a new baby coming I am itching to make some cute baby projects. Maybe after I do my required 2 rows I can work on a smaller project.
In other news before the snow fell we were actually able to do a photoshoot for one of our sponsors. They sent us a nice picture for us to keep.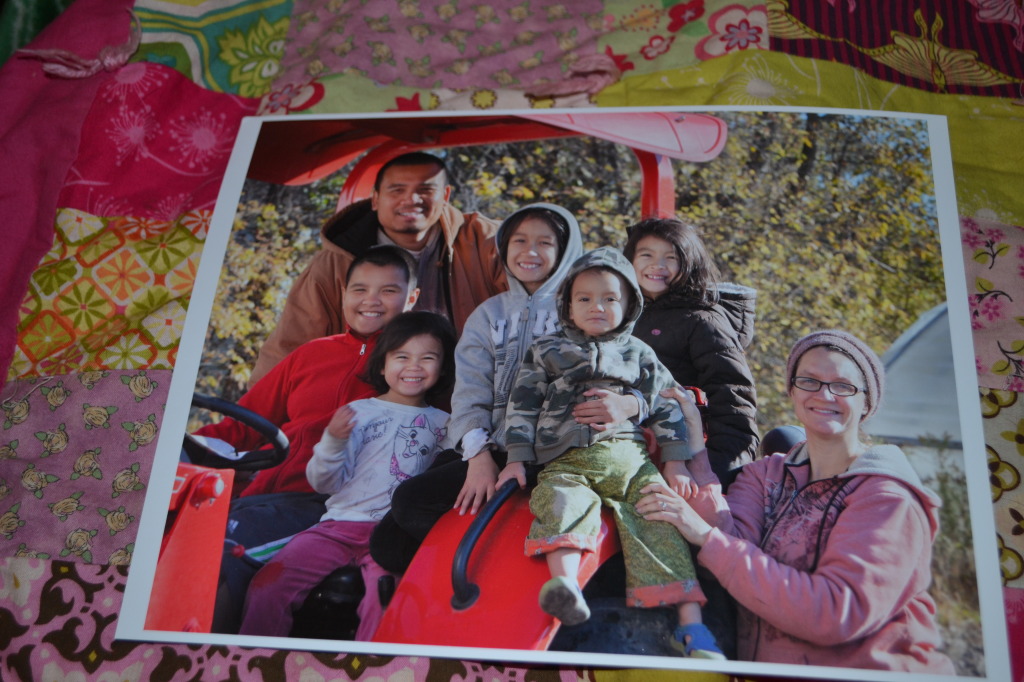 So I know I could just scan it but after a crazy busy year and trying to wind down this month and since I was already taking other pictures I decided to just take a picture of it for you.
Finally we have already had our first CSA share of 2015 purchased. It was purchased as a Christmas gift. This got me thinking and we made up some cute gift certificates if you are interested in giving healthy, local food for Christmas. You can pop over to our CSA page for more information.
Hope you have a wonderful start to your holiday season.