This year has been an incredibly busy one. As much as Proeun and I value the simple life and not over extending ourselves with too many off farm activities as the children grow so do their interests. So we try to be really conscious about what we take on but there were times this summer when we had swimming lessons for the 3 older ones every morning then between Tae Kwon Do, horse back riding lessons and training for the 4H dog show it seemed like we had something going on almost every night during the week.
Well with the coming fall things have slowed down a bit–no more swimming lessons or riding lessons and we decided to let Tae Kwon Do go for now while momma recovers but this weekend was the highlight of the summer–the 4H dog show. My children have been in 4H since we moved and we love it. This year Proeun II decided to do the dog project (with a little prodding from mommy who felt the 2 year old huge black lab living in our home could use a little discipline). So one night every week since May II has been training Jack. At the county dog show in August we didn't know what to expect but were pleasantly surprised when II won first place in both obedience and showmanship and it was on to the state show this past weekend.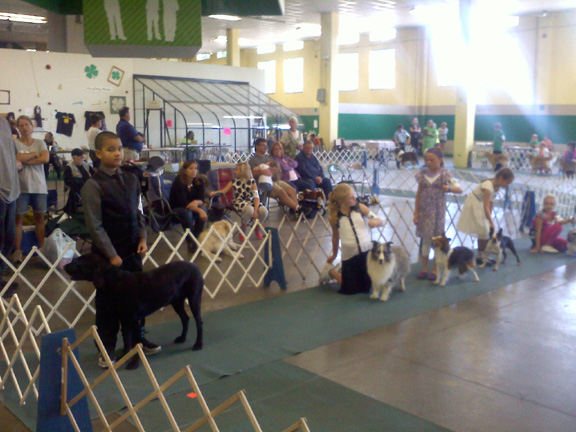 II getting ready to show his dog in showmanship. Quite the good looking pair!
It was a long day and September has been a hard month in many ways for me but it was worth it to see II come out of his shell and Jack really show off his talents.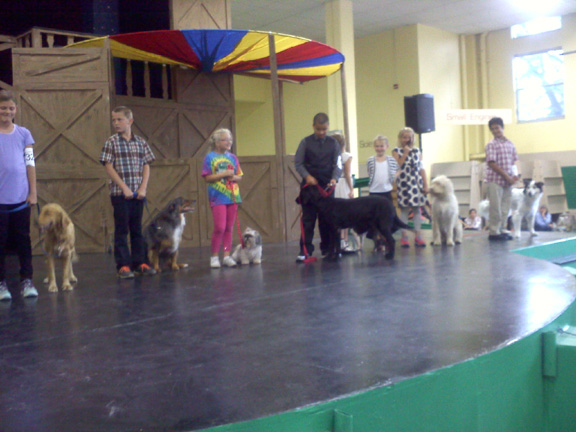 II and Jack waiting on stage to collect their awards. I wanted to go home and skip this part but II really wanted to stay. I remembered back to May when he was so shy he wouldn't look his instructor in the eye when she talked to him now he is excited to go on stage! He won blue ribbons in both odedience and showmanship at the state level. He already said he is excited to next year.