It wasn't until the past couple of years that I have started doing New Year's Resolutions. As I look at the new year and think about my hopes and dreams for the coming 365 days it has become a fun tradition and exercise in dreaming. I firmly believe adults still need to have dreams and goals they are striving for. And for this year my main goal is to enjoy life more–to not be so caught up in daily struggles that I forget about the big picture. When I was writing the author page in my book Home School Farm I was able to summarize what my favorite things are–writing and reading, cooking and eating and creating and loving. So this is where my focus will be for the New Year.
So I start today with reading. I thought I would share with you some of the things that are really filling my soul lately.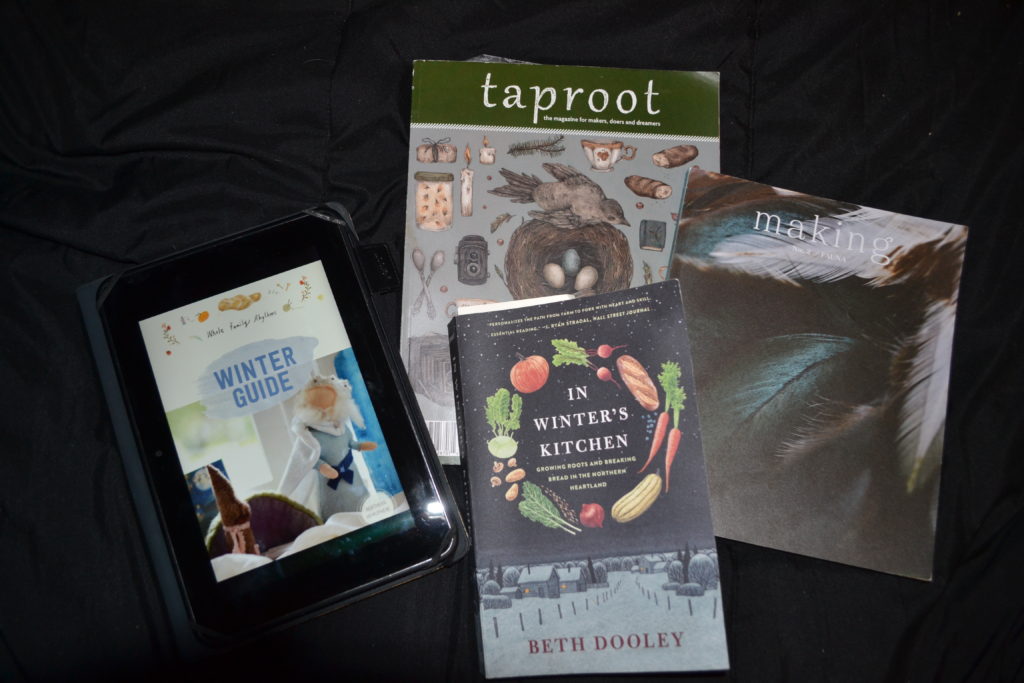 As a busy momma magazines are often more my speed. I have long been a subscriber of Taproot. I believe I have every copy, though I have not always been good at reading it, my last 2 issues I have completely devoured. So I am saving my others for a little postpartum reading. I love the authenticity of the magazine and the focus on simplicity.
Making was a dream come true for me. The handmade section of Taproot has always been my favorite as I dream about beautiful things I would like to make. Now there is a whole magazine just for creating all those projects that really speak to me. It is a new magazine. My copy, Fauna, is the 2nd issue, unfortunately I missed the first one, but I definitely plan on subscribing. I love just flipping through the magazine and planning future projects. I also love the ability to learn new skills and types of projects. I bought the tools for my first felting project yesterday!!
I picked up In Winter's Kitchen at the Twin Cities Book Festival. Of course I am a fan of local food. I did expect this book to be a bit different though, I thought it would be a personal narrative and while there are elements of that I love that it goes into the history of various crops that are northland staples like wheat and carrots. I am learning much about plant history and getting inspired to try some new varieties. What is really cool is that since the book takes place in my home state I actually know some of the people Dooley talks about in the book. Also when she mentions a restaurant or company that she likes I can check them out myself.
Case in point she talks about Sunrise Flour Mill. They are a small mill that grinds heritage wheat and they are just 15 miles from my home! So yesterday I stopped by to get some flour and asked the proprietor Martin to make some recommendations for me. He did. Currently I am making Perfect Artisan Bread. It is a 2 day process I will continue tomorrow. I am super excited about it. Apparently the flour is good for people with high blood sugar, gluten sensitivities and celiac's disease. I just hope it is delicious.
The last book I am reading has a lot to do with another activity–loving. In loving my children I hope to provide them with a peaceful and secure home environment. Peaceful is a little difficult to attain with 6 little (and not so little ones) running around. We homeschool and I was feeling like so so so much of my energy was going into the older children's more complex struggles that we were loosing something in creative, fun energy. I stumbled upon Whole Family Rhythms and got a copy of their Winter Guide (it is only in ebook). The book provides a weekly story, and play activity as well as daily focus activities from a nature walk to cooking, to water coloring or crafting. It also provides momma meditations and momma crafts. I am trying to be more go with the flow and not stress if we doing get to everything every day but it is fun to have a little different focus.
What are you reading in the New Year?