This weekend we had an amazing opportunity–teaching a cooking class at the Seward Co-op. It was such an amazing experience. I love surrounding myself with people who love good food, sharing ideas and recipes and just chatting. Here are some pictures from the event.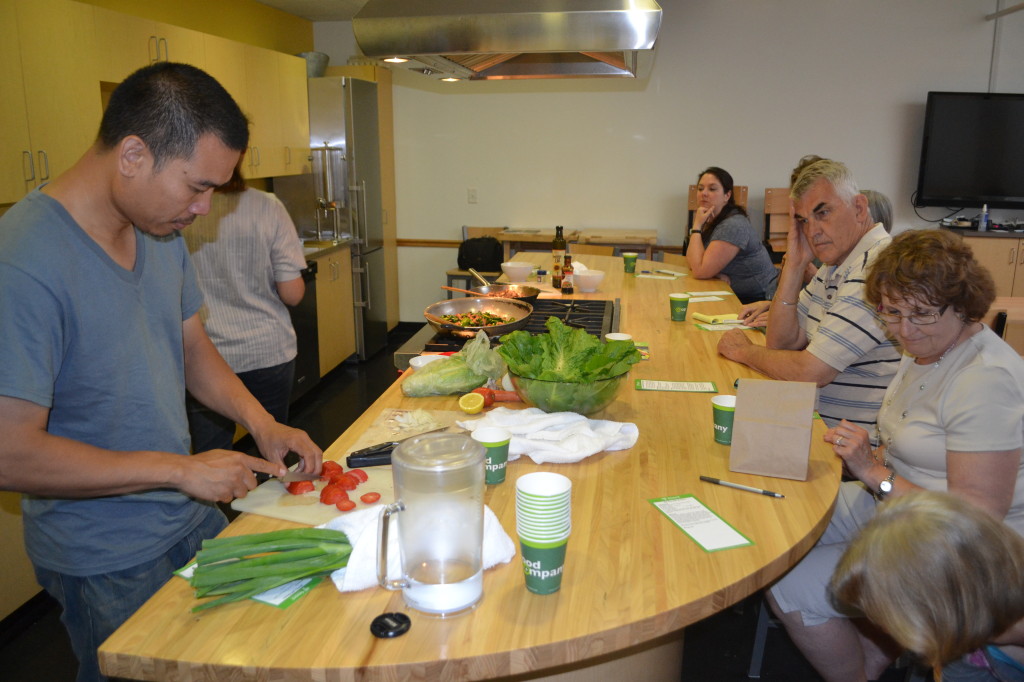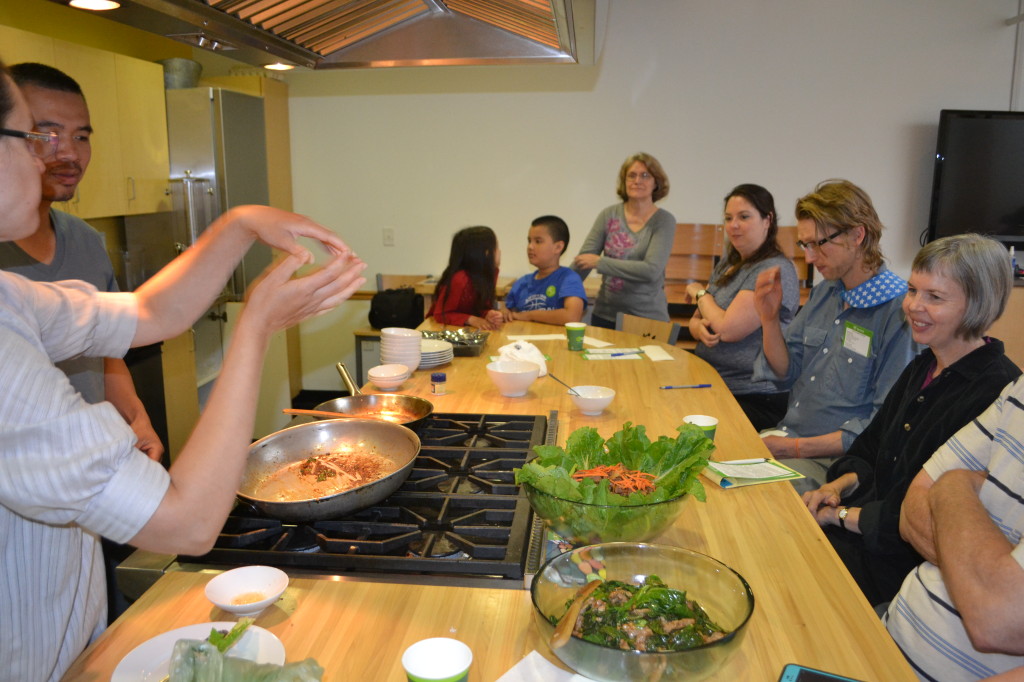 Proeun really loves sharing traditional dishes. But one of the things about traditional dishes is teaching people how to eat them. Here I describe how to make an envelope out of the lettuce leaves for the Lok Lac.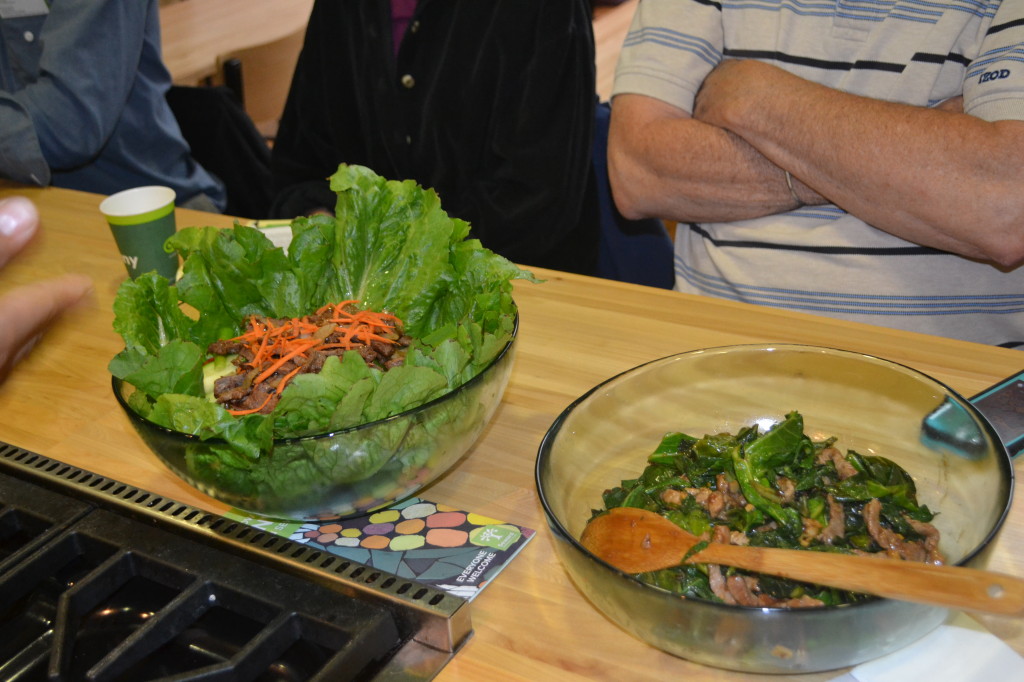 Lok Lac (Hot Beef Salad) and Stir-fry pork with collards.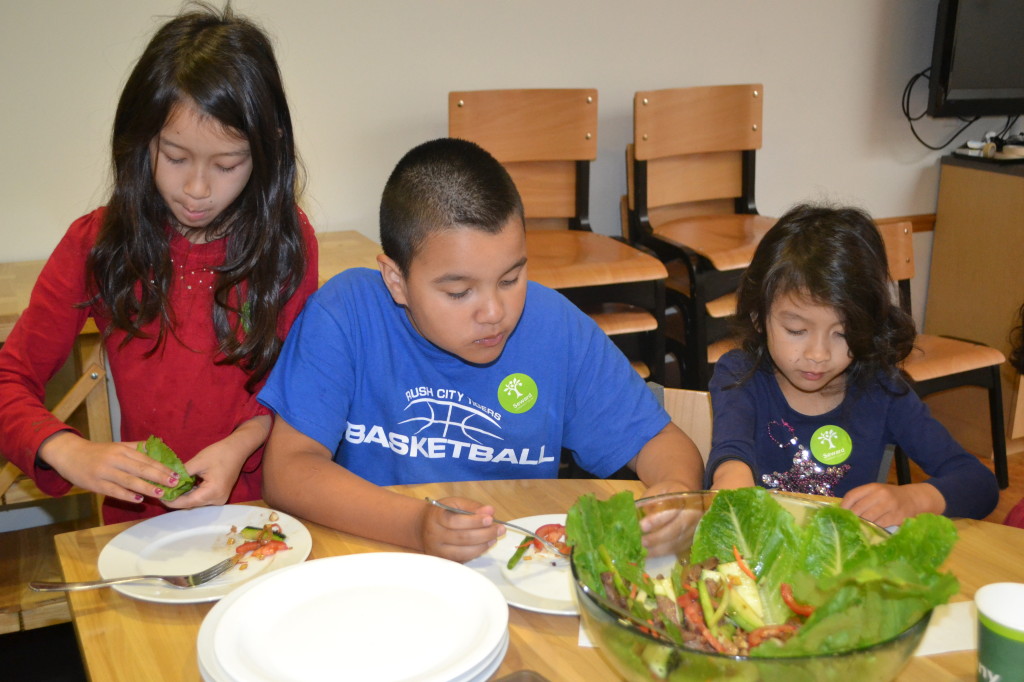 The question came up "how do you get kids to eat vegetables?" Honestly I am not really sure, I guess just have it available and model good eating habits. We are not perfect and sometimes the children reject meals I have made but these are some of their favorite, probably because they are also Proeun and my favorites and we eat them regularly. They cleaned up after the class!
So it was a pretty great day. The co-op was beautiful, especially the kitchen! The people were fun and interesting and it was a pretty great way to spend the morning.
Here are the recipes I wrote for the class. If you are looking for ways to eat greens this summer try these out. They are fun and easy. The stir-fry one can be made using whatever protein and greens you have on hand. These type of recipes are great for seasonal eating.
Lok Lac (beef salad)
1 pound beef thinly sliced
3 garlic cloves crushed
½ tsp salt
1 tsp sugar
1-2 TBSP Oyster sauce
1 onion thinly sliced
For salad:
1 head lettuce
1 tomato in thin wedges
1 cucumber peeled and cut into 2 inch sections then halved and finally thinly sliced
1 green onion prepared as the cucumber
For dipping sauce
4 TBSP lemon juice (about 2 whole lemons)
1 tsp fish sauce
½ -1 tsp ground black pepper fresh is best
salt to taste
Begin by making the meat. Brown the meat in a pan with the oils and a bit of oil to get it started. Add garlic and other seasoning and continue stir-frying until the meat is done. Set aside.
Take the lettuces and separate the leaves. Arrange in a circular pattern on a plate or in a bowl. Layer tomatoes then cucumbers and finally green onions in center of bowl or plate. Pour the hot beef mixture over the top of the salad in a little mound.
For the dipping sauce combine all ingredients.
To eat take a leaf of lettuce. Layer tomato, cucumber, green onion and beef in the middle of the leaf and fold up to make and envelope. Dip in the sauce and enjoy. Eat with rice.
Basic Stir Fry
1 pound thinly sliced meat (pork, beef, chicken, etc.)
2 garlic cloves crushed
1 TBSP Soy Sauce
2 TBSP oyster sauce
1 TBSP corn starch
4 cups chopped greens (water spinach, kale, mustard, etc.) can also mix them.
Begin with the meat, brown the meat with a bit of oil, when well browned add the seasoning. When almost done add the greens. Some will take very little cooking time so watch them or they will turn to mush. Stir and cook until wilted to desired texture. You can add one more TBSP of oyster sauce or soy sauce to taste if not the desired taste.
Eat over rice or add some cooked noodles and a bit more sauce for Lo mein.